Multiscreen Consumers Mix Offline and Online In Engaging With Brands
On 20.06.12, In Print & Design, by Blake Houser
AWARENESS
Even among the most connected consumers, new product discovery largely happens offline via sources like word-of-mouth, direct mail, catalogs, and television.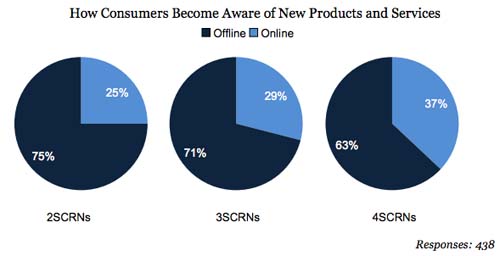 Source:  IAB, The Multi-Screen Marketer, May 2012
One quarter of 2-screen (TV and computer) consumers cite digital sources as the source of new product awareness; 75% offline sources like word-of-mouth, direct mail, catalogs and television as their primary way of discovering new products.
Three out of 10 (29%) of the 3-screen group and 37% of the screen group say that most of their learning about new services comes form online source—despite their high level of connection, offline sources are how the majority make new product discoveries).
General and niche websites were most commonly mentioned as online sources of discovery; Social sources (e.g., Facebook, Twitter) were also quite common.
RESEARCH
How consumers conduct research is a matter of preference, and all groups prefer online sources of information.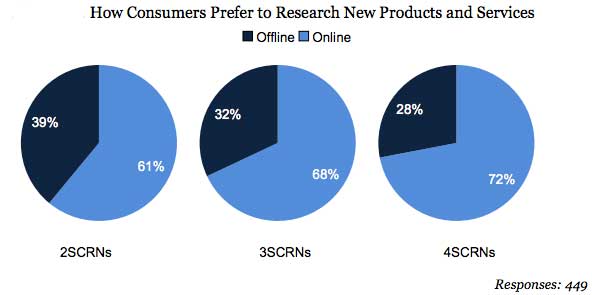 Source:  IAB, The Multi-Screen Marketer, May 2012
Six of 10 (61%) 2-screen consumers cited digital sources as their primary source, rising to 72% for those with TVs, computers, smartphones, and tablets.
Among offline sources, the most common was the personal advice of friends and family. Social networks were mentioned frequently, second only to searching directly for product information.
STAYING IN TOUCH AFTER THE PURCHASE
The ways in which consumers prefere companies keep consumers informed after a purchase are limited. Catalogs and direct mail are the most often cited of offline channels, and by a slight margin, 2-screen consumers prefer these methods.
For most three and four screen respondents, digital is more convenient, rising to 62%. Email is the by far the top choice among online channels, followed by connecting with the brand through social networks.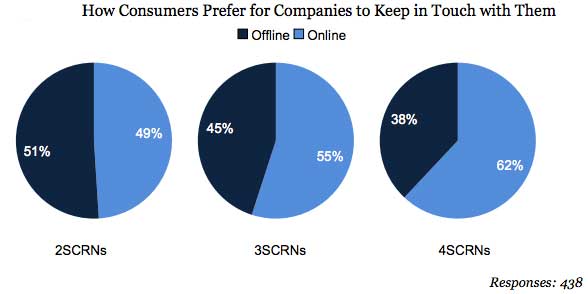 Source:  IAB, The Multi-Screen Marketer, May 2012
About: 
The survey was fielded online April 19-25, 2012 to a Survey Sampling panel comprised of US consumers ages 18 and up. There were 1,851 qualified responses. The margin of error for the larger data set of non-tablet owners is +/- 2.67% (n= 1,254) while for tablet owners the error is +/- 4.18% (n=597).
Source:  Print in the mix
Marketing Charts, Multiscreen Consumers Research and Engage Brands Digitally, May 24, 2012
About the author:
Blake Houser is Client Relations Manager at Wells & Drew. In addition, he is the third generation in this family-owned speciality printing business.
Latest posts by Blake Houser (see all)